 Innovative spray booths, coating and drying systems
With over 40 years of experience, SEHON is a leading manufacturer for innovative high-tech and high performance paint systems and spray booths for automotive and industrial applications. SEHON develops, plans and builds customer-specific coating systems of all types and sizes.
SEHON operates internationally. Among our customers are: car body and repair shops, painting centers, automotive manufacturers as well as companies in Surface Engineering and Coating Industries.
SEHON specializes in highly optimized, energy performant paint booths for cars, trucks, commercial vehicles, buses and rail vehicles. We offer you complete solutions from qualified consulting, detailed planning including process optimization, product selection to the assembly and  perfect after-sales service.
We produce state-of-the-art energy and process-optimized paint systems and coating technologies, environmentally safe, in order to ensure  the best paint quality at the most competitive prices. Our professional approach to the customer needs as well as our high-tech products are the key to our international success as well as the success of our customers.
We guarantee you that by using our paint booths you may lower your energy consumption by up to 80  % in comparison with similar standard spray booths. Another milestone for us is the integration of combined heat and power (CHP) units and photovoltaics as increasingly desired by our customers. We are one step ahead in the customized energy management for your entire car body repair shop.
SEHON finds individual, high-tech solutions for the planning, construction and modernization of your paint systems and painting booths. More than 3,000 satisfied customers in automotive and other industrial sectors rely on the SEHON brand.
Our state-of-the-art painting systems with particle-free exhaust air and integrated green technology will guarantee you the best possible paint quality and the highest efficiency, with the maximum protection of the environment and nature.
OUR  RANGE OF SERVICES & PRODUCTS
Our Services:
New construction, conversion and upgrade of paint and bodywork shops. Consulting, planning, design, development, assembly and after-sales service. Customer service and maintenance. Holistic "energy- and process" optimization. Customized customer-specific products and services.
Our Products:
SE-PROFESSIONAL FUTURA: Customer-tailored painting systems and spray booths for cars, commercial vehicles, buses and rail vehicles.
Combined paint booths with integrated dryer. Paint booths with integrated infrared portal dryer. Drying booths (circulating air, infrared, UV).
SE-PROFESSIONAL MOVE: Transportable paint booths / dryers for conversion, upgrade and capacity expansion in- and outdoors.
CAMELEON: Body workstations for a safe and economical repair of car bodies in mixed construction (steel, aluminum and carbon).
The original: SEHON multifunction booths and workplaces for time-and cost-saving repairs.
MULTI-SPEED-MASTER ®: Spot-repair workstations for small damage repairs on cars, commercial vehicles, buses and rail vehicles.
Universal workstations for vehicle preparation. Masking and clean room workstations. Finish and Body workplaces.
Central supply terminals for workplaces (preparation, finishing and car body ).
SE-INSPECTOR: Finish lighting & light walls for quality control
SE-AIRCOMMANDER: Compressed air treatment for more quality and efficiency during painting.
Special features for Painting Systems (selection):
SE-ÖCOTOP: our highly efficient energy-saving aggregate technology with integrated all-year heat recovery SE-NONSTOP-PLUS.
SE-SUPRACLEAN: a perfect filter system consisting of several filter stages for a 100% particle-free exhaust air, fully laminar air ducting and maintenance-free, effective heat recovery.
SE-ÖCOPLUS: energy saving system, in all operating modes, with bypass and recirculation technology.
SE-AIRMASTER: fully automatic cabin air-flow control, in all operating modes, for more quality with less energy consumption.
SE-CONTROL: fully automatic air pressure regulation system for constant quality during painting, standby and drying.
SE-AIRPLUS: System for accelerating the evaporation times of water lacquers for more performance.
LED lighting (ex-protected!) For better light with less energy consumption. Ensures a full laminar airflow.
Fully laminar airflow for better paint results and more performance (especially for components).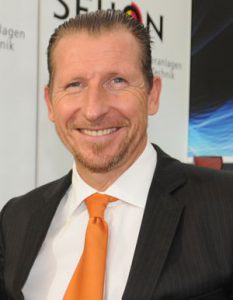 Please call me!
Sincerely yours Tiemo Sehon (CEO)
Customers – Projects – References
More than 3,000 customers. Current customer projects: New construction, reconstruction, modernization.